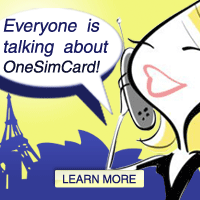 The borders are falling. For many years, it was insanely expensive to take your American phone overseas. That's changing, with roaming SIM card deals and some excellent new roaming data packages from major U.S. carriers. It can be hard to compare the options, though. OneSimCard Standard ($29.95, plus airtime costs) offers inexpensive incoming calls and bulk data packages in many countries, making it the best choice if you expect to receive a lot of calls.
Like our other top roaming SIM card choices, Maxroam and Telestial Passport, the OneSimCard works with unlocked GSM phones. The card will work in AT&T and T-Mobile phones as long as they're world-compatible (and you ask your carrier to unlock your handset), as well as in Sprint's and Verizon's slim selection of "world phones." The card will fit in the iPhone 4S but not the iPhone 5, as OneSimCard offers full-sized and "micro" SIMs but not yet the unique nanoSIM used by the iPhone 5.
Usability
The OneSimCard comes with a phone number in Estonia. If your friends call that number, incoming calls are free to you in most countries. It still costs them a call to Estonia, though. To be kind, you can get a number in the U.S. or a dozen other countries for $4.99 per month, but that will tack on 20 cents per minute for incoming calls. Compare that to Telestial's Passport, which offers a free U.S. number, but also charges you 19 cents a minute to receive calls on it. Overall, OneSim's incoming calls still come out cheaper.
OneSimCard has an unusually rich range of calling options. You can use callback, which forces you to call a number, wait for a call back, and then pick it up. There's also a special Android app, OneSimCard Direct, which replaces your dialer and lets you avoid callback, and another app for both Android and iPhones, OneSim VOIP, which makes calls at very low rates when you're connected to a Wi-Fi network.
We took the OneSimCard on a trip to Berlin, Germany, packed into an LG Optimus 4X Android phone. Initially, we found the card to be a bit twiddly. It attached to Vodafone's network, on which it couldn't send or receive data. But after doing a manual network selection to Deutsche Telekom, things were fine.
Once we were connected to a network that functioned properly, all of the calling options worked just fine. Call quality on a OneSIM VoIP call wasn't nearly as good as a standard call, but that was to be expected. Data worked just fine.
Rates
Rates for these kinds of cards change a few times a year. But as of this review, OneSimCard offers its very low incoming rates 150 countries, along with competitive outgoing call rates and data rates that are all over the map. The chart below summarizes how OneSimCard's rates compare with Maxroam and Telestial in seven major countries.
Onesimcard Review
ultima modidfica:
2015-06-30T17:32:32+00:00
da